Free energy savings cost assessment for your Ventilex equipment
With rising energy prices and tougher economic conditions, many of our customers put increasing emphasis on reducing the operational costs of their Ventilex dryers. A global survey amongst Ventilex customers indicates that there is a lot of potential to save energy:
Sub-optimal operating settings cause 5-10% too high drying energy usage
Equipment modifications and smart upgrades can save a further 10-20% in energy usage
Lack of maintenance add 1 to 2 weeks of harmful down time to the costs per year
Many of our customers do not have sufficient insights into the energy consumption of their dryers and thus: are unable to act on it.
Ventilex is on the forefront of helping customers reduce the cost of operating their dryers and has developed a series of smart solutions to help.
Book your free cost assessment now!
As our valued customer we would like to offer you a free operational cost assessment with one of our advisors. Together with your team we can evaluate your current equipment set-up, and use our energy analysis tools to help formulate energy saving solutions.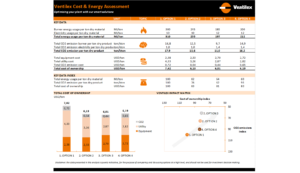 Are you eager to increase lifetime, reduce downtime and save operational costs?
Please fill in the from and we will contact you to schedule your free operational cost assessment!