Ventilex DryGenic® ISO-11290 tested to eliminate 99.9% of all airborne pathogens
Following extensive laboratory testing with airborne pathogens at the start of 2021, the Ventilex DryGenic® Air Dehumidification system was again confirmed to eliminate 99.9% of all airborne pathogens, such as bacteria, molds and viruses. Laboratory tests have been performed following international accreditation standards ISO-11290-1 and 2. The proprietary DrySol® solution, that is at the heart of the system, has yet again proven to be highly effective. DrySol® is a liquid hygroscopic, non-toxic bactericidal solution, which, when sprayed into an air stream, effectively removes bacteria and specific viruses from the air.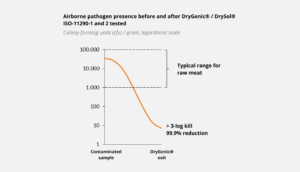 DryGenic® protects your product and staff
As food and meat processors worldwide struggle to keep pathogens under control – combined with the COVID-19 pandemic – the Ventilex DryGenic® system offers major health related benefits to our customers. With our air dehumidifiers, customized to your specific plant's needs, we help deliver longer shelf life whilst taking the best care of the workers in the production area. In 1961, we introduced our innovative system for the first time. Nowadays, more than 500 companies in 45 countries thrive using our machinery in the food and meat processing industries.
The unparalleled benefits of the Ventilex DryGenic® Air Dehumidifier
Sterile: kills and removes 99.9% of airborne bacteria, viruses and molds
Reliable: large volumes of accurately controlled air flow
Longer shelf life: absence of condensation on product and equipment, preventing germinal breeding grounds
Energy saving: 60% lower energy consumption than traditional air handling units (AHU)
Minimal maintenance: nearly maintenance free, 30 year life span