Ventilex and Altop Kunststoftechniek join forces
We are proud to announce our formal and exclusive partnership with Altop Kunststoftechniek (referred to as Altop), following multiple years of joint development in DryGenic® air dehumidifying solutions. Altop provides complete technical solutions in the field of plastic equipment constructions. Combined with our expertise in air dehumidification systems, we have taken the DryGenic® concept to a whole new level.
In 1961, we introduced our innovative DryGenic® system for the first time. Nowadays, as food and meat processors worldwide struggle to keep pathogens under control – combined with the COVID-19 pandemic – our Ventilex DryGenic® system offers major health related benefits to our customers. Following extensive laboratory testing with airborne pathogens at the start of 2021, the Ventilex DryGenic® Air Dehumidification system was again confirmed to kill and remove over 99% of all airborne pathogens, such as bacteria, molds and viruses.
Together with Altop we have established numerous air dehumidification systems: more than 500 companies in 45 countries thrive using our machinery in the food and meat processing industries.
Stijn Lemmens, Commercial Director at Ventilex:
"In the past 20+ years, Chiel and Joost Berndsen have built up a company with truly impressive plastics expertise. Today, Altop is able to build our DyrGenic® dehumidifiers to perfection. Now, with this exclusive partnership, we will go far beyond just production: we will team up to innovate the next generation DryGenic®, with a particular focus on energy reduction. I am thrilled to take this next step with Altop and become exclusive partners in air dehumidification."
Chiel Berndsen, Owner and Director at Altop:
"Our cooperation with Ventilex started about 10 years ago. By joining forces, we deliver high-end air dehumidifying solutions, placed all over the world. In the past years, our cooperation has intensified: with our sister company (Altop International), we contributed to the development and finetuning of the DryGenic® technology. Our engineers designed the air units, together with Ventilex, in a smart and transparent way. By combining our expertise, we create the best possible solutions for our customers. It's great to see our cooperation grow, and I am really excited for what the future brings."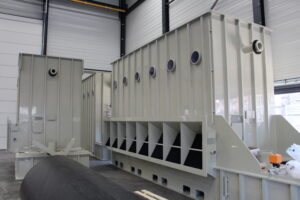 About Ventilex and Altop
Ventilex is a world leader in customized thermal treatment solutions, established in 1965. We offer fluid bed dryers, sterilizers, pasteurizers, air dehumidifiers and gelatin belt dryers for the food, feed and minerals markets, with an installed base of over 1,000 units in 80 countries.
For more information contact: sales@ventilex.com
With over twenty years of experience, Altop is an expert in the field of plastic equipment construction, piping systems, chemical storage and dosing installations. With inventive engineers, well-equipped production workshop and assembly, they create both custom-made solutions and serial products.
For more information contact: info@altop.nl