For the ideal drying process
In order to deliver optimal drying solutions to your drying needs, we conduct product tests at our own Test Center in Heerde, the Netherlands. Frank Kastelijn, our Lead Chemical Engineer, is able to simulate a variety of drying processes.
We always test dry your product before designing the complete drying installation. In this way, we define the precise conditions in which the product should be dried, completely according to your specifications and wishes. During these trials, we simulate processes with a wide range of parameters. Based on the test results, a tailor- made solution can be designed.
We look at temperature, air velocity, residence time of the product in the dryer, granule size, dust formation, and requested capacity. In other words: we determine the product mass that can pass the drying unit in a certain time frame. Our Test Center relies on decades of experience and over 1,000 tested products!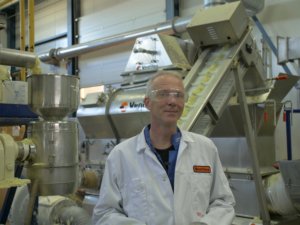 The innovative equipment of our Test Center
➤ Batch fluid bed dryers for small initial drying and cooling tests.
➤ Continuous fluid bed drying installations for full scale testing production up to 6 tons product per hour.
➤ These dryers are all equiped with a natural gas burner, steam or electrical heating.
➤ An extended dust and fines collecting system is present, full scale cyclone dust collectors and a jet-bag filter.
➤ Drygenic® Air Dryer/decontamination system, the so-called dry-pack. The air from this dehumidifier is dehumidified and decontaminated and can provide air streams up to 5000 Kg air per hour.
➤ Batch pasteurizing and sterilizing equipment for microbiological treatment with pressurized steam. Products can be inoculated and analyzed on request.
➤ Belt dryer static simulator with recirculation system, specifically for our gelatin belt dryers.
➤ The famous Ventilex breadmill for American, European or Japanese breadcrumb and rusk. Our breadmill and its wide range of possibilities are famous all over the world
Also present in our Test Center is a variety of conveyor belts, conveyor screws, granulators and mixers.
Available at our or your site
Alternatively, we can integrate our Ventilex testing equipment into your process at your site. In existing processes, this can be a very efficient route to an optimal drying result. The Ventilex test engineers travel worldwide, so you can test the Ventilex drying solution and adapt it to local conditions.
Besides this, the Ventilex Test Center has a supporting function for the Research and Development of next generations of Ventilex equipment. Currently we are working on the 9th generation of our gelatin dryers.
Examples of recent testing
The possibilites at our Test Center are endless. We have already tested more than 1,000 products, varying from waste sludges for the production of fertilizer to dog and cat feed, soft drink ingredients, herbs, and cereals. They may also consist of sand, salts, or chemical products. And these are just a few examples. Upon finishing the design, Ventilex takes care of the subsequent route, up to commissioning at the client site. But it all starts in our Test Center. Some examples of our recent tests:
Development of inline drying equipment and devices.
Testing energy saving possibilities with recirculation, heat recovery or the new generation heat pumps.
Optimizing bacterial decontamination performance of our Drygenic® Air Dehumidifiers in (for example) the meat industry.
Project Green: a new project with expectations of over 50% energy reduction on components for our Drygenic® Air Dehumidifier.
Are you ready to get the most out of your drying equipment?
Are you looking for results? Our experts will gladly help you. Please contact us.